Has your life or the life of someone you know been touched by Well Spouse or spousal caregiving?  Fundraisers are new to Well Spouse. Every fundraiser is important not only to raising money, but to  raising awareness of Well Spouse and the unique challenges spousal caregivers face.
 Do you have an idea for a fundraiser in your community? To host a fundraiser in your local area or to  get more information, please contact the office at (800) 838-0879.
Current WSA Fundraisers or Appeals:
Fundraiser - Restaurant.com Gift Card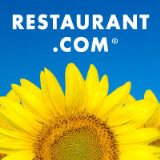 How Would You Like To Pay Only $20 For A $50 Restaurant Bill?

With WSA's newest fundraiser, you can do just that!

We are selling $50 Restaurant.com gift cards for $20. They are redeemable online for certificates to over 10,000 restaurants across the U.S. They never expire, and can be divided among several restaurants. To see the participating restaurants near you, visit their website.
Well spouses deserve a break with someone else doing the cooking and serving! Treat yourself to this great deal and help WSA at the same time. These cards also make great gifts!
Contact us at This email address is being protected from spambots. You need JavaScript enabled to view it. about purchasing a card or to ask a question about this win-win deal. WSA makes $10 on each card we sell.