Respite is as Individual as You and Your Situation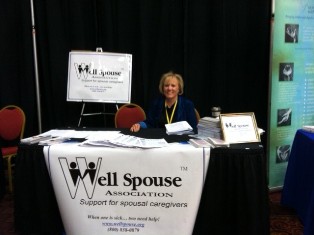 Presentation at the National Lifespan Respite Conference, November 1-4, 2011, Glendale, AZ


by Kelley Reese, Regional Coordinator, Volunteer, Well Spouse™ Association

Abstract: Caregiving takes on many forms so "Respite" can mean different things to each individual. Define your "normal", know yourself and then find the right respite for you. For some it's finding solitude, for others it's socialization and sometimes it's both. Respite can be 5 minutes or a week, so don't confine yourself to one solution.


Text from an ad in the conference program. 

We are a voice for spousal caregivers. Our group, the Well Spouse™ Association ("WSA"), is the only non-profit organization in the USA dedicated solely to the support of this special segment of caregivers; and is not disease-specific. The personal issues of a spousal caregiver are unique, dramatic, and, for the most part, ignored by society and medical institutions. The physical and financial challenges of caring for one's life partner, usually unable to work or share in the household responsibilities, are painfully augmented by emotional stress, social isolation, and the sad mutation of the couple's rapport. WSA has a strong presence on the east coast but our desire is to grow accessibility and awareness right here in Arizona and the southwest region of the United States. Know a spousal caregiver? Why not give them a gift of membership? We welcome new members from  everywhere. Visit us at www.wellspouse.org

In the ad we also thanked our commercial sponsor... Western Refining of Phoenix, AZ.