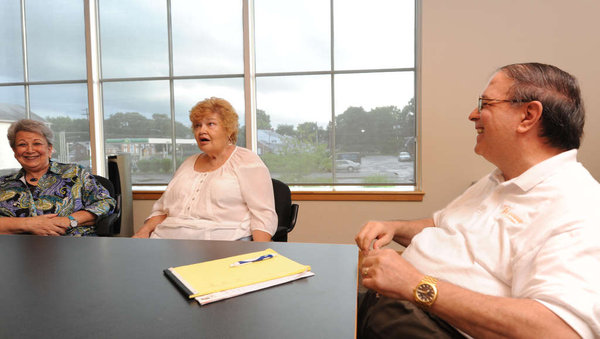 By Debra Nussbaum, For The Inquirer
Posted: July 28, 2013, Philadelphia Inquirer

Ilene Triest found the group a decade ago while caring for her husband, who had been seriously disabled in a car crash.

Bob Mastrogiovanni attended his first group dinner in Cherry Hill in 1992, after a psychologist suggested a support group to help him and his wife, Kathy, handle her multiple sclerosis.

Patrice Dupuis connected with the Well Spouse Association in 1996, when she was caring for her husband in his early 40s as he was declining quickly with ALS.

"I had no life," Triest said of the time she walked into her first Well Spouse dinner meeting in Manalapan, N.J. "I am married but not married. I have a husband, but he is gone. The hardest thing for me was being lonely.

"When I saw five women at the table with a bottle of wine, I thought this is where I need to be. WSA is the most wonderful group. My Well Spouse friends understand me like one else does."

The Well Spouse® Association, which will have its annual conference in Philadelphia in October, has provided a lifeline since 1988, when it was founded by author Maggie Strong. She was caring for her husband, stricken with multiple sclerosis, and had written the book, Mainstay: For the Well Spouse of the Chronically Ill.

The nonprofit group, based in Freehold, N.J., now has almost 3,000 members. Many care for chronically ill spouses, while others have lost their spouse to MS, Alzheimer's, ALS, strokes, or serious accidents. Half of the members participate online, and the others attend monthly support groups across the country or respite weekends. Groups in this region include Cherry Hill, Northeast Philadelphia/Abington, and Main Line/Valley Forge.

The sharing runs the gamut from the practical to the emotional. Members share tips on how to finance care, where to get medical supplies for a fair price, and how to find someone to talk to when you are lonely and frustrated. They get together monthly for dinners. At conferences, they talk, golf, sightsee, go to restaurants, and sometimes dance.

Members say the most important element is talking to people who know what they are facing at home.

"We want to let people know they aren't alone," said Donna McQuade, the WSA membership coordinator, who also runs the Freehold support group. Most members are between 40 and 65, and there are more females (about 65 percent of the group) than males, but more men have joined in recent years.

McQuade has cared for her husband for more than 30 years after, he was badly injured in an accident.

"There is loneliness and separation from your friends and your old world," she said. "You lose your identity. Burnout is a sad and realistic thing that happens to caregivers."

There are 15 million adult caregivers in the United States, said Claire Day, vice president of constituent services for the Delaware Valley Chapter of the Alzheimer's Association.

And they are often reluctant to admit that they need care, too.

"They don't want to be a burden to someone else," Day said. "They are the most neglected people at taking care of themselves. Support networks are so vital. With Alzheimer's, we say it takes a village to care for someone."

Larry Bocchiere has been president of WSA for two years. His wife died of emphysema in January, after 17 years of illness. He plans to attend the conference and stay active in the group, even after his term ends this fall.

"Once people find us, they don't let go," he said.

Bocchiere's wife encouraged him to be part of the group, he said, but some ill spouses find it threatening. She understood that sometimes he needed a weekend away from home, he said. "She really supported the group."

Mastrogiovanni's wife has had MS for 25 years. She can sit in a wheelchair a few hours a day, and the couple has taken trips to Atlantic City and goes to dinner and concerts, but life can still be hard.

"You are losing your partner, some slowly over years, some quickly in an accident," he said. "This is your partner in life, a financial partner, a sexual partner, your most intimate relationship."

When Dupuis was in her early 30s, her 40-year-old husband was diagnosed with ALS. As the disease progressed, the couple moved from California to Mifflinburg, Pa., where she knew no one but some of her husband's relatives. She read about WSA in a magazine and began receiving the newsletter and talking on the phone to another woman in the group.

"I was feeling so lost," she said.

In 1996, she attended her first conference. "It felt so good to be telling jokes and laughing. They were my source of support and love."

Her husband died five years after his diagnosis, but she remained friends with many in the group.

Ten years ago, she married Paul Dupuis, whom she met in WSA. They married three years after his wife died of MS. They plan to attend the conference in Philadelphia and are grateful that they found WSA and each other.

"I urge caregivers to get help for themselves," Paul Dupuis said. "You need emotional support, too."


---
Well Spouse Association

For more information about the Well Spouse® Association and the Oct. 25-27 conference, go to www.wellspouse.org.

The Alzheimer's Association also runs numerous support groups and a 24/7 helpline at 1-800-272-3900 and has a website, www.alz.org/desjsepa.


---
Debra Nussbaum can be reached at This email address is being protected from spambots. You need JavaScript enabled to view it..
Source: http://articles.philly.com/2013-07-28/news/40850214_1_support-group-multiple-sclerosis-alzheimer - Accessed: 20130828