"Do you think we could go on a cruise?" "Well, why not?"

-- by Amie Brockway and Jan Rabinowitz

What better venue for spousal caregivers to get together, soak up sunshine, see new sights, let someone else do the cooking, be pampered, and come back refreshed? A poll of the "travel group" formed at the 2009 Conference in Annapolis showed considerable interest -- depending on when, how long, from which port, etc. The largest number was interested in an East Coast departure, and so for our first attempt, we chose a 5-day cruise to Mexico, leaving from Tampa, FL, on January 8, 2011.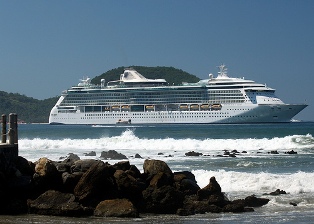 Thirteen people signed up: eleven current and former well spouses, and two guests--a sister and a mother who "came along for the ride". We hailed from Connecticut, Upstate New York, NYC, Pennsylvania, Virginia, Georgia, and Florida. Some of us already knew each other; some did not.
The representatives at Royal Caribbean couldn't have been more helpful in arranging for our cabins, meeting rooms, dining arrangements, and other details, both before and during the cruise.

As Cruise Day approached, predictions for snow on flight day in the New York region prompted rescheduling in an effort to avoid cancellations. Unfortunately, one of the rescheduled flights was cancelled, and two of us were at risk for not reaching Tampa by boarding time. Quick thinking and extraordinary luck put us on an Amtrak train scheduled to arrive with time to spare.

In the meantime, our ship's departure was delayed for disinfecting--literally from stem to stern--because of illness on the previous sailing. Royal Caribbean handled the situation with amazing skill, and each passenger on our cruise received $50 on board credit for the inconvenience.

We began boarding around 5:30 pm, and by 8:00, eight of us had "found" each other in the Windjammer Café on Deck 11. I phoned the others, and at 11:00 the next morning we gathered in the Adriatic room for our first meeting.

Fast forward five days.
docs/photos/Cozumel.jpg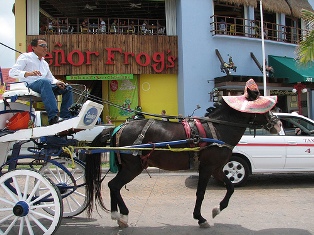 It was unanimous! Ten of the eleven well spouses believed it to be worthwhile and a good way for caregivers to get together. (The eleventh took an extended vacation and wasn't available for the survey.) Well spouses (no guests invited) met on each of the two at-sea days and dined together each night, guests included. One attendee said of the meetings "...at first I didn't think it would be beneficial, but as soon as I sat down and listened to everyone, I felt like I was home."

Comments about the whole experience included:

"...I think the cruise is the perfect respite. Talking with other caregivers, participating in fun activities, relaxing and be[ing] able to make your own schedule is absolutely wonderful."

"...I have been a Former since August 2010 and I have no support group chapter near me, so this was something I REALLY needed. I now have 10 friends... whom I feel I can contact and not be judged for the way I feel or the things I have thought during my caregiving years."

"INVALUABLE!!!

"Respite weekends are too short. A cruise offers a variety of activities and destinations economically and best affords the most important element of comradeship."

Eighty percent of the cruisers said they would do it again; the other 20% said they might do it again. The seas were a little rough on the last day; maybe some of those who got sick aren't so sure they'd go through that again!