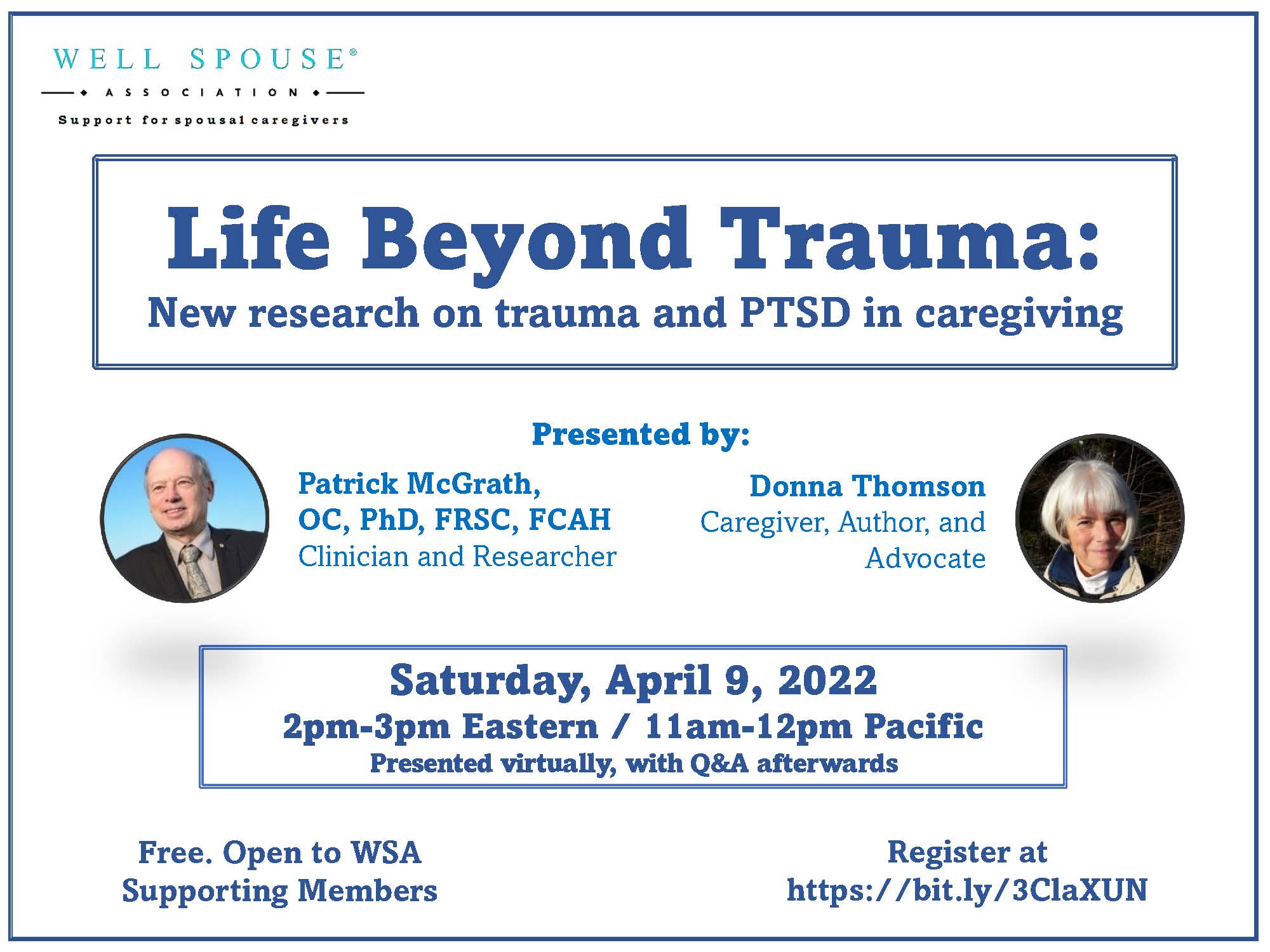 When one partner in a couple faces medical challenges, the other partner often faces ongoing trauma from the experience. This discussion and Q&A will share emerging research on the role of trauma and PTSD in caregiving and how we can respond to it.

Our program will be led by Donna Thomson and Patrick McGrath.

Patrick McGrath, OC, PhD, FRSC, FCAH is a practicing clinician at the Centre for Medical and Psychological Health, a Researcher at IWK Health Centre and an Emeritus Professor of Psychiatry at Dalhousie University. He also co-founded the Strongest Families Institute, joined the Board of Directors of the Strongest Families Institute from inception, and has been Chair of the Board since then. His research, mentorship, and health care leadership have been recognized by an appointment to the Order of Canada and election to the Royal Society of Canada and the Canadian Academy of Health Sciences. With Dr. Pottie, he won the Manning and Governor General Awards for Innovation for his work with the Strongest Families Institute. His extensive career has included being a clinician, a researcher, an administrator, and a social entrepreneur.

Donna Thomson is a caregiver, author, and advocate. Her experience was shaped by caring for her son who has cerebral palsy and is medically complex. Donna is the co-author (with Dr. Zachary White) of The Unexpected Journey of Caring: The Transformation of Loved One to Caregiver (Rowman & Littlefield, 2019) and author of The Four Walls of My Freedom: Lessons I've Learned From a Life of Caregiving (The House of Anansi Press, 2014). Donna is a co-designer and co-instructor of The Family Engagement in Research Course and the facilitator of the Caregiving Essentials Course, both at McMaster University. Donna is a co-author of Time to be Counted: COVID-19 and Intellectual and Developmental Disabilities — an RSC Policy Briefing. For the Ontario Ministry of Health, Donna sat on The Expert Group on Home and Community Care and on the Working Group on Complex Care for Adults with Developmental Disabilities.