Mainstay: For the Well Spouse of the Chronically Ill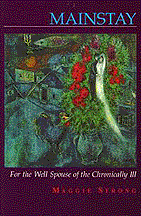 With the kind permission of the author, Maggie Strong, we reproduce here selected chapters from the 1st edition (1988) of her book, Mainstay: for the Well Spouse of the Chronically Ill. "National Well Spouses. We don't exist, but why not? If such a group would interest you, send a postcard (no letters!) to National Well Spouses . . ."
Maggie Strong, on tour to promote the book, kept finding people coming up to her during or after book signings, to talk about how what she had written had resonated so much with them. 
The odd-numbered chapters of Mainstay give Maggie's personal story, and they are all available to WSA Members.
The even-numbered chapters offer information on different diseases, financial matters, common emotions experienced by well spouses, illnesses' effect on marriage and children, and legal questions; and they provide interviews with other well spouses, as well as with medical and psychological professionals. Since a lot of the information in these chapters may now be outdated, we are offering only chapters 8 and 12.
The book itself is out-of-print; you can read it in the Members Only - Members Documents area, if you are a Supporting Member of the WSA.
You can read the Introductory chapter below.