We Found a Thrill at Pendle Hill
by Maggie Strong, adapted from the Winter 1989 newsletter and Maggie's archives
Ten self-selected delegates met at Pendle Hill, a Quaker study center in Wallingford, PA, on the last weekend in October 1988, to bring our organization into being.  The hesitancy and curiosity we all felt before actually meeting each other turned into a shared poignancy about life with a husband or wife who is chronically ill, a life after innocence. The diseases that affect our spouses were multiple sclerosis, diabetes, heart and vessel troubles, degeneration of the brain, and cancer.  Eight of us were parents and we ranged in age from 30 to 57 - an average of 45 years old. 
We met, we laughed, we wept, we stayed awake all night.  Jan's booklet on board process told us that we couldn't keep National Well Spouses as our name because that combination lacked any of the dozen or so allowable code words.  From the allowable list, we chose "foundation" because it sounded best with that awkward word "spouse". Unpleasing to the ear as "well spouse" may be, it does something no other phrase does:  it draws attention to our role in two quick words.  "What's that?" most people respond on first hearing it.  So then we tell them who we are and raise their consciousness at the same time. We've given this phrase to the world.  
In our house called "Waysmeet", we resolved upon a three-part statement of our mission:
to provide emotional support to the husbands and wives of the chronically ill through local groups
to raise the consciousness of professionals and the public as to our actual role
to give strength to the labor against spousal impoverishment and for long-term custodial care and other innovative, relevant services
We want a base-strong and non-hierarchal democratic organization.  We are you.  You are the Well Spouse Foundation.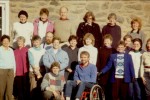 (click image to enlarge)
We volunteered for the following positions:
Board Of Directors
President - Molly Lazar
Secretary - Dianne Negri
Treasurer - Jan Beaty
Advocacy - Warren LaRoche
Staff
Executive Director - Marilyn Kamp
Support Groups East - Debbie Hawke
Support Groups West - Pam Long
New Member Mail - Elaine Lepkowski & Joanne Watral
Transitional Support for Bereaved - Ellen Phillips
Newsletter - Maggie Strong
We left Pendle Hill with a couple of acorns collected by Marilyn Kamp in hand: connecting with hundreds and maybe thousands of well spouses was going to be hard work and hard work was the last thing any of us needed.  But the instantaneous bond we felt that autumn weekend buoyed us up - - and being buoyed up was such an uncommon and welcome feeling that we pledged to do what we could to spread that bond to as many well spouses as we could reach.