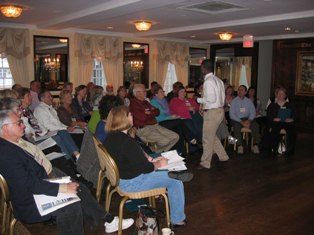 Welcome to our community: couples facing challenges and choices.  Welcome to a community of active spousal caregivers for chronically ill and/or disabled husbands, wives, and/or partners and those former caregivers struggling to build a new life after caregiving ends.  Welcome to Well Spouse.  Founded in 1988 by a group of dedicated caregiver husbands and wives, the Well Spouse® Association (formerly the Well Spouse Foundation) is the only national organization dedicated to the support of spousal caregivers only.  While those caring for an ill or disabled life partner face many of the same concerns and stresses faced by other family caregivers, spousal caregivers must confront many unique issues.  WSA brings these caregivers together. so they can support each other.  
Many recent studies show us how important emotional support is to caregivers. This is especially true of spousal caregivers who in many instances become the sole financial supporter, acting single parent, and household decision maker in addition to being full time caregivers. Feelings of guilt, isolation, anger, and intimacy issues require discussions not suited to other family caregivers.
Our members have asked for support programs different from those run by disease or other caregiver organizations. They have asked for non-judgmental environments where they can have open and real conversations about their issues. They have found comfort in our support groups, our on-line forums, mentor programs, letter writing groups, respite weekends and conferences.  They have therapeutically expressed themselves in our quarterly newsletter, Mainstay, in our new e-newsletter The Member Minute, and in articles published locally and nationally in other media.  
Learn more about the work of our organization in the pages to follow.  We invite your interest and/or support for WSA as we seek to expand our programs to truly marvelous but mostly unheralded men and women found in communities small and large throughout the United States, Canada and abroad. We welcome the relationship which will benefit your interests while supporting our cause!
The WSA welcomes the support of Professional Caregivers, Doctors, Nurses, Chaplains, Social Workers, Psychologists, Psychiatrists, Religious Leaders, Clergy, Ministers, Priests, Non-Profit Healthcare Organizations and For-Profit Healthcare Organizations.
One way in which for-profit corporations are helping well spouses now is by paying for all WSA Supporting memberships in a geographic area. For more information call the Office at 1-732-577-8899, or This email address is being protected from spambots. You need JavaScript enabled to view it. at This email address is being protected from spambots. You need JavaScript enabled to view it..