Huffington Post -  07/11/2016 07:18 am ET
Barry Jacobs is a clinical psychologist, writer and educator who specializes in helping family caregivers cope with loved ones' illnesses and has been an Honorary Board Member of WSA since 2011.
Barry J. Jacobs, Psy.D.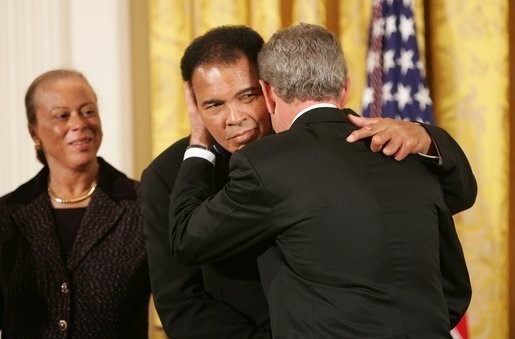 The Champ Behind the Champ: Lonnie Ali with her husband and President Bush.
             During her moving eulogy for her husband, Muhammad Ali, at last month's memorial service in Louisville, Kentucky, Lonnie Ali, in a face-obscuring bonnet but with a forthright tone, declared, "Muhammad wants young people of every background to see his life as proof that adversity can make you stronger."
            Much the same can be said of the life of this 59-year-old woman, the fourth wife for the past 30 years of the boxing great, civil rights activist and world's most famous man. From nearly the outset of their marriage, Muhammad showed signs of Parkinson's disease. As he steadily declined in his capacities to ambulate and speak, their marriage became one between a spousal caregiver and a care recipient. She spent most of her time and energies attending to his increasing needs.
            But if our country's prevailing cultural narrative about family caregiving nowadays is mostly negative—as evidenced by a stream of tragic memoirs and movies depicting caregivers as entrapped, beleaguered and depressed—then Lonnie Ali was an exemplar of positive caregiving. At the same time, she played the role of the Champ's champion, she became our national Caregiver Advocate, especially while working on behalf of Parkinson's caregivers. By re-reading her interviews with caregiver websites and the general media during her now-completed caregiving years, we can glean lessons for reaping caregiving's potential rewards.
            Love—and like―matter: The tale of their slowly blooming love has been oft recounted, recently by the New York Times(http://www.nytimes.com/2016/06/10/sports/muhammad-ali-wife-lonnie-ali.html?_r=0), People Magazine (http://www.people.com/article/muhammad-ali-death-wife-lonnie), and other major outlets. Lonnie was a 6-year-old, hometown Louisville girl who met Muhammad when he visited his old neighborhood as a 21-year-old heavyweight contender. She was at first scared of his sheer physical size and then enchanted by his playfulness. Later, as an adolescent, she found him to be an excellent confidante and guide whenever he periodically returned home. Her childhood crush on him eventually matured into womanly ardor. That love didn't die during years of grinding caregiving. Rather, it helped sustain her commitment to caring for him, even during difficult times.
            But it is just as evident in a 2010 WAMU interview with Diane Rehm (https://thedianerehmshow.org/shows/2010-10-06/lonnie-ali) that Lonnie liked and enjoyed her husband. When a caller on the radio show shared an anecdote about Muhammad's generosity signing autographs and telling jokes, Lonnie said appreciatively, "That's Muhammad." She was happy to be with him—to see his mock-angry stare and silly mugging for the camera—and to witness his genuine and unbridled love of people. Liking even a debilitated Muhammad must have helped sustain her caregiving, too.
            Practice positive acceptance: Lonnie wasn't interested in pity parties for herself or any other family caregiver or even loved ones afflicted with illness. In a 2014 video clip for AARP (https://www.youtube.com/watch?v=n0avxf6qtkM), she said, "You really have to play the hand that life deals you. Either you can fold and just let it overwhelm you or you can stay in the game." She clearly was committed to hanging in there every day and doing the best she could. In a 2014 interview with Future of Healthcare News (http://www.futureofhealthcarenews.com/news/balancing-love-and-pragmatism-lonnie-alis-tips-for-caregivers), she said, "When I wake up, I make the decision to speak in a joyous voice, to nurture positive energy, and to make this a good day."
            Gain a sense of mastery: In numerous publications, Lonnie related how important it was for her to learn about Muhammad's Parkinson disease and its treatments, as well as to develop good working relationships with physicians with whom she could communicate often and easily. All this gave her knowledge that took some of the uncertainty out of the long, downhill medical course. She told caregiver.com (http://www.caregiver.com/articles/interviews/ali_interview.htm), "[The disease] is not something to be afraid of; the more you know, the more empowered you become." As with many caregivers, she seems to have gained greater self-confidence over time as she helped her husband manage his Parkinson's disease and live vitally with it.
            Seek support and respite: Lonnie told Diane Rehm that, however guilty caregivers may feel about reaching out for help, "you need to get someone in there to assist you." For her, that meant asking her sister to come live with her and Muhammad when they resided in Phoenix. Her sister spelled her at times. At other times, she was just good company for them both.
            Find greater purpose and meaning: Perhaps the most important positive lesson that Lonnie has exemplified is in seeing caregiving in greater moral and spiritual dimensions. According to the New York Times, she "leaned on Ali to become the face of Parkinson's." Both he and she spent years collaborating with Michael J. Fox to raise money for Parkinson's research.
            But their faith is what carried them most during these years. She told People Magazine in 1997 that "Parkinson's has made [Muhammad] a more spiritual person…God gave it to him to bring him to another level, to create another destiny." The same applied to her. "[God] put me here for a reason," she said on the AARP video, and added, "He's not going to let go of my hand."
            Caregiving with love, purpose, mastery, acceptance and support—those are the practices that can bring positive benefits to even long-term caregivers. Lonnie Ali lost her husband but showed us how to gain a richer life.
Barry J. Jacobs, Psy.D. is a clinical psychologist, family therapist and the Director of Behavioral Sciences for the Crozer-Keystone Family Medicine Residency Program in Springfield, PA. He is the co-author (with his wife, Julia L. Mayer, Psy.D.) ofAARP Meditations for Caregivers—Practical, Emotional and Spiritual Support for You and Your Family (Da Capo):
https://www.amazon.com/AARP-Meditations-Caregivers-Practical-Emotional/dp/0738219029/ref=sr_1_1?ie=UTF8&qid=1466385322&sr=8-1&keywords=aarp+meditations+for+caregivers
Follow me on Twitter: @drbarryjjacobs
Facebook: DrBarryJJacobs
Email: This email address is being protected from spambots. You need JavaScript enabled to view it.