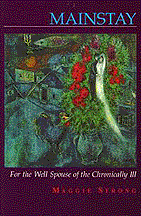 With the kind permission of the author, Maggie Strong, we offer WSA Members access to selected chapters from the 1st edition (1988) of her book, Mainstay: For the Well Spouse of the Chronically Ill. These chapters are available in the Members Only section of the WSA website. 
The odd-numbered chapters of Mainstay share Maggie's personal story, and they are all available to WSA Members.
The even-numbered chapters offer information on different diseases, financial matters, common emotions experienced by well spouses, illnesses' effect on marriage and children, and legal questions; and they provide interviews with other well spouses, as well as with medical and psychological professionals. Since the information in these chapters may now be outdated, we only offer chapters 8 and 12.