ABOUT THE BOOK 
LOVE IN THE TIME OF CHRONIC ILLNESS: HOW TO FIGHT THE SICKNESS NOT EACH OTHER
By Barbara Kivowitz and Roanne Weisman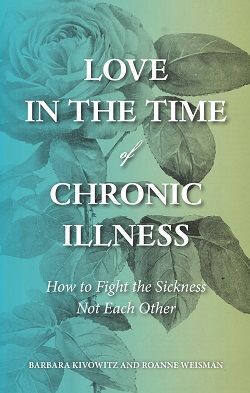 Format: Paperback, eBook, 205 pages
Publisher: Rare Bird Books (May 2018)
What happens to couples when illness strikes?
When illness or trauma invades the couple relationship, habitual routines get broken, emotions intensify, communication can weaken, and for some, a partnership of equals becomes one of patient and caregiver. When you find yourself at the intersection of lifetime love and overwhelming responsibility, the right path is often difficult to find.
When one of you gets sick or injured, two lives are dislocated.
Couples living with illness are faced with daunting challenges and difficult questions:
• How do you make space for the illness without letting the illness take over your lives?
• How do you hold onto love - emotionally and physically - when illness interferes?
• How do you manage all the new responsibilities without overburdening the well partner and diminishing the ill partner?
• How much can you do for the person you love?
• How do you communicate your fears and your needs with honesty, and compassion?
• How do you deal with the morass of medical, legal, and financial decisions?
• And, perhaps most importantly, how do you face an uncertain future and also create hope?
Love in the Time of Chronic Illness, now in its second edition, is a deep and practical guide for couples living with illness or trauma.
You will meet:
 Couples who share their stories of living with illness, along with their strategies for dealing with the challenges.
 Experts who offer advice about how to cope and build relationship resilience
Love in the Time of Chronic Illness will help you find yourselves again and grow stronger, individually and as a couple. As one expert told us, "Illness can be the jolt that removes the dullness from life and unveils the potential."
ABOUT THE AUTHORS

Barbara Kivowitz is a clinician, consultant and author specializing in health care innovation. She works with health care systems to help them shift to more relationship-based models of care. She has delivered programs based on her book to clinicians at Stanford Health Care, UCSF, Massachusetts General Hospital, Dana Farber Cancer Center. She is a frequent speaker at conferences for patient-caregiver groups. She is on the Patient and Family Advisory Councils of Stanford Health Care and Sutter Health and on the Board of Directors of San Francisco Village. Barbara's background is in the fields of organizational development and psychology. Barbara has been both the patient and the caregiver in her relationship with her husband.

Roanne Weisman is an award-winning author specializing in science, medicine, and healthcare. Since 1985, she has been providing institutional advancement communication services to medical, academic, and corporate clients, including most of the teaching hospitals of Harvard Medical School. She is principal author, with Brian Berman, MD, of Own Your Health: Choosing the best from alternative and conventional medicine. (Health Communications/HCI Books, 2003). This book — called "a solid reference book…a first-rate guide" by Publisher's Weekly — received a Bronze Book-of-the-year Award from Foreword Magazine, and was nominated as finalist for a 2004 Nautilus Book Award. Roanne has co-authored several other consumer health books with physicians, including two jointly published by Harvard Medical School and McGraw-Hill. Awards for these books include a 2008 "Excellent Product of the Year Award" from iParenting Media; "Best Consumer Health Book for 2008" (Library Journal); and the 2010 Bronze award from the 17th annual National Health Information Awards. Two of her academic institution publications won national gold medals for writing and design from the Council for Advancement and Support of Education. Her website is www.TheWriteWayToHealth.com . Roanne's feature stories have appeared in periodicals such as Body + Soul Magazine, Alternative Medicine Magazine, Country Living Magazine, and Prevention Magazine, as well as in Pulse, the magazine of Beth Israel Deaconess Medical Center, and in the Massachusetts General Hospital Magazine. Roanne holds a Master of Social Work with Advanced Standing from Boston University and a Bachelor of Social Work, Magna cum Laude, from McGill University. She is a member of the National Association of Science Writers, New England Science Writers, and the Authors Guild. A native of Montreal, she holds dual American/Canadian citizenships and is fluent in French.